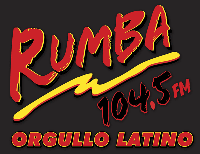 Following the launch of "Philly's 106.1" on WJJZ and WSNI 13 days earlier, it was known that 104.5 would eventually launch a new format of its own. Unlike the Rhythmic AC format at 106.1, which word had leaked out about a few weeks prior, Clear Channel kept the new format of WSNI closely guarded. Market observers guessed anything from Country to Modern Rock to Spanish, all of which could have filled a logical hole in the marketplace.
As noon approached on August 23, Donna Summer's "Last Dance" helped trigger the end of 104.5 as an english language station. A deep voice counted down from diez to uno and the station signed on with Frankie Ruiz's "Puerto Rico" kicking off "Rumba 104-5".
Thanks to Nick D. for the aircheck.